DS-2
Certina DS-2 erbjuder en rad olika modeller för att tillgodose en mängd smaker och krav. Här är några av de mest framträdande egenskaperna som gör dessa klockor så eftertraktade:
DS-konceptet – Certinas banbrytande DS (Double Security) koncept säkerställer optimal stöt- och vattentäthet. DS-konceptet omfattar en förstärkt klockbotten, en extra tät gummiring runt kronan och en reptålig safirglas för att skydda uret från skador.

Schweiziska urverk – Certina DS-2-klockorna drivs av högkvalitativa Swiss Made automatiska eller kvartsurverk, vilket garanterar noggrannhet och pålitlighet i tidtagning. Dessa klockor är en perfekt partner för den dynamiska och aktiva livsstilen.

Sportig design – DS-2-serien är känd för sin sportiga och moderna design, vilket gör dem lämpliga för både vardagliga och sportiga aktiviteter. De snyggt utformade boetterna och armbanden i rostfritt stål eller bekvämt silikon ger klockorna en sportig charm.

Diverse stilval och funktioner – Certina DS-2-serien inkluderar modeller med olika funktioner, såsom datumvisning, kronograf och precidrive, vilket ger dig möjlighet att välja en klocka som passar dina behov och stilpreferenser.

Lysande visare och timmarkeringar – För att säkerställa optimal läsbarhet även i svagt ljus är DS-2-klockorna utrustade med Super-LumiNova-belagda visare och timmarkeringar som ger långvarig och effektiv belysning.
Certina DS-2-serien är en perfekt blandning av sportig elegans och teknisk innovation. Med sina pålitliga Swiss Made urverk, moderna design och varierande stilalternativ är dessa klockor ett utmärkt val för den aktiva och stilmedvetna klockbäraren. Upptäck Certina DS-2-serien och hitta den perfekta klockan som uppfyller dina krav och kompletterar din personliga stil.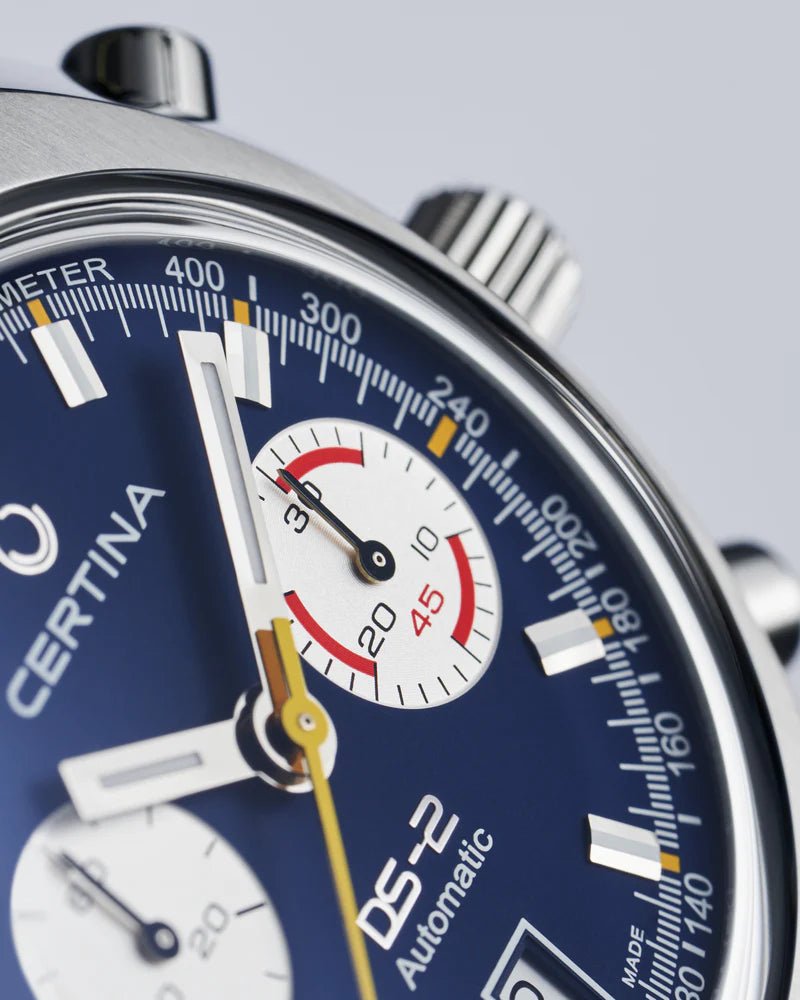 Sunday,Monday,Tuesday,Wednesday,Thursday,Friday,Saturday
January,February,March,April,May,June,July,August,September,October,November,December
Not enough items available. Only [max] left.
Add to Wishlist
Browse Wishlist
Remove Wishlist
WARNING: Max settings 200 code custom color. If you want more than, please contact support us, Kind Regards!
IMPORTANT: Click on the button 'Update on online store' to code active on live theme.
Update on online store
Updating style
Updated style
Demo Swath, Label settings Preview: