DS Caimano
Certina Caimano erbjuder ett brett utbud av modeller som tillgodoser olika smaker och preferenser. Låt oss dyka in i några av de mest framträdande egenskaperna som gör dessa klockor så attraktiva:
Klassisk och elegant design – Certina Caimano-serien är känd för sin klassiska och eleganta design, vilket gör dem lämpliga för både vardag och fest. Det smakfulla utseendet på boetten och armbanden, i antingen rostfritt stål eller läder, ger klockorna en tidlös charm som aldrig går ur tiden.

Pålitliga och precisa urverk – Certina Caimano-klockorna drivs av Swiss Made automatiska eller kvartsurverk, vilket garanterar precision och pålitlighet i tidtagning. Dessa klockor är det perfekta valet för den kräsna klockbäraren som vill ha en klocka att lita på.

Bekvämlighet och komfort – Certina Caimano-klockorna är designade med användarvänlighet och komfort i åtanke. De har justerbara armband och en smidig boettstorlek, vilket gör dem bekväma att bära hela dagen. Dessutom är visare och timmarkeringar tydliga och lättlästa, vilket gör det enkelt att hålla koll på tiden.

Variation i stil och funktion – Certina Caimano-serien inkluderar modeller med olika funktioner, såsom datumvisning och kronograf, vilket ger dig möjlighet att välja en klocka som passar dina behov och stilpreferenser.

Högkvalitativa material – Certina Caimano-klockorna är tillverkade av högkvalitativa material som rostfritt stål och läder, vilket bidrar till deras hållbarhet och långvariga skönhet. Dessa materialval ger klockorna en exklusiv och sofistikerad känsla.
Certina Caimano-serien kombinerar sofistikerad design, tidlös charm och högkvalitativ teknik för att skapa en klockkollektion som tilltalar den stilmedvetna klockbäraren. Med sin variation i stil och funktion samt användning av högkvalitativa material är Certina Caimano det perfekta valet för den som söker en elegant och pålitlig klocka för alla tillfällen. Utforska Certina Caimano och hitta den perfekta klockan för dig.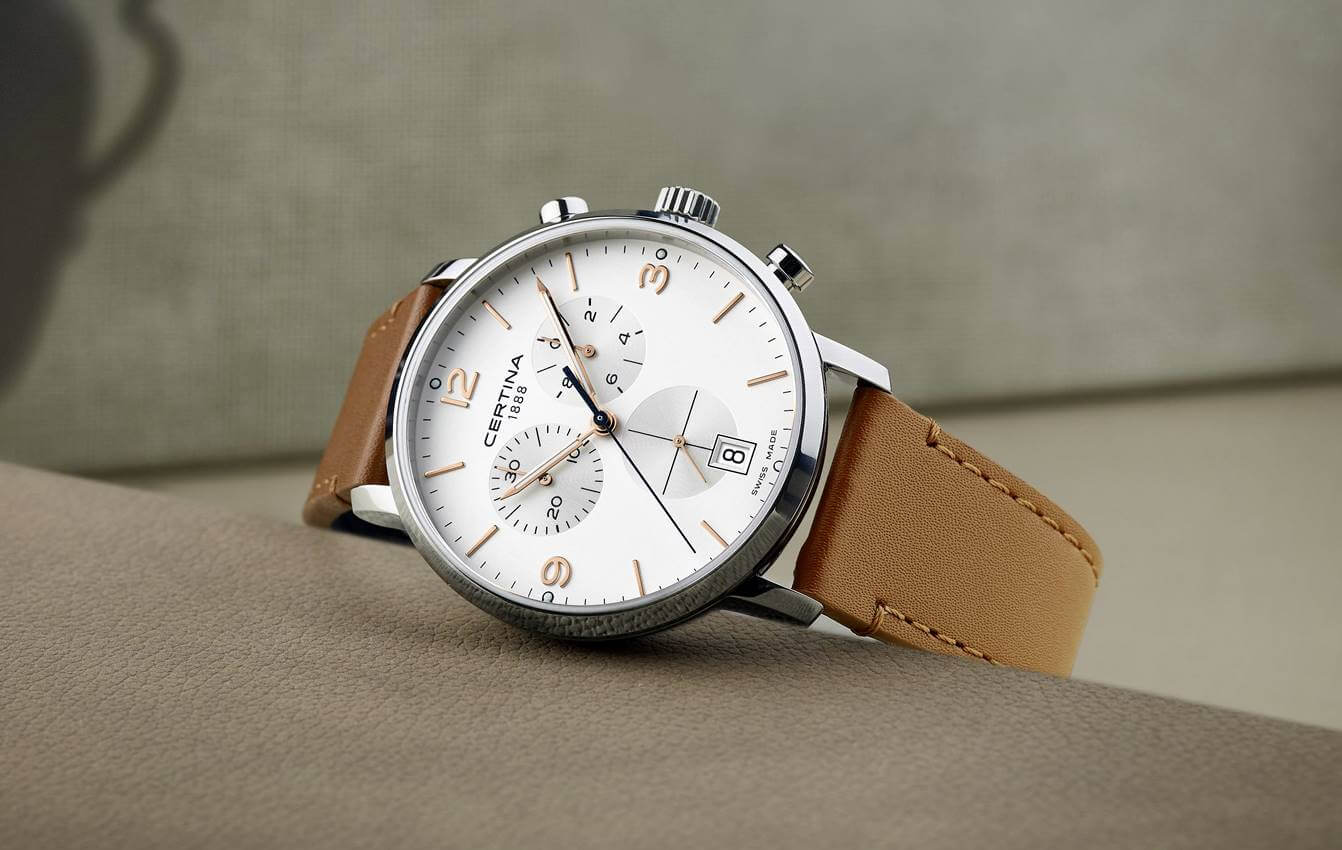 Sunday,Monday,Tuesday,Wednesday,Thursday,Friday,Saturday
January,February,March,April,May,June,July,August,September,October,November,December
Not enough items available. Only [max] left.
Add to Wishlist
Browse Wishlist
Remove Wishlist
WARNING: Max settings 200 code custom color. If you want more than, please contact support us, Kind Regards!
IMPORTANT: Click on the button 'Update on online store' to code active on live theme.
Update on online store
Updating style
Updated style
Demo Swath, Label settings Preview: