Epix Gen 2
Garmin Epix Gen 2 är en innovativ smartklocka som kombinerar banbrytande teknik och användarvänliga funktioner för att möta behoven hos personer med en aktiv livsstil. Med avancerade träningsfunktioner, förbättrad navigering och en slående design är Epix Gen 2 en måste-ha följeslagare för träningsentusiaster och äventyrare. Låt oss ta en närmare titt på vad som gör Garmin Epix Gen 2 så speciell.
Garmin Epix Gen 2 erbjuder ett brett spektrum av funktioner och egenskaper som gör den till en utmärkt smartklocka för en aktiv livsstil. Här är några av de mest framträdande aspekterna av denna smartklocka:
Stor AMOLED-skärm – Garmin Epix Gen 2 har en stor, högupplöst AMOLED-skärm som ger tydlig och livfull återgivning av information, vilket gör det enkelt att läsa av data även i starkt solljus.

Förbättrad navigering och kartor – Epix Gen 2 är utrustad med GPS, GLONASS och Galileo för att ge exakt positionering och snabbare fixering av satelliter. Den har även detaljerade kartor och navigationsfunktioner som hjälper dig att hålla dig på rätt spår under dina äventyr.

Omfattande träningsfunktioner – Garmin Epix Gen 2 erbjuder en rad avancerade träningsfunktioner, såsom pulsmätning, VO2 max-beräkning, träningsbelastning och återhämtningstid. Dessutom inkluderar klockan övervakning av stress, sömn och energinivåer för att ge dig en helhetsbild av din hälsa och välbefinnande.

Anpassningsbara sportprofiler – Epix Gen 2 har anpassningsbara sportprofiler som täcker ett brett utbud av aktiviteter, såsom löpning, cykling, simning, vandring och skidåkning. Detta gör det enkelt att spåra och analysera dina prestationer inom olika sporter och aktiviteter.

Smarta funktioner – Garmin Epix Gen 2 erbjuder en rad smarta funktioner, inklusive meddelanden, väderinformation, musikstyrning och kontaktlös betalning via Garmin Pay. Detta gör klockan till en praktisk och mångsidig följeslagare i vardagen.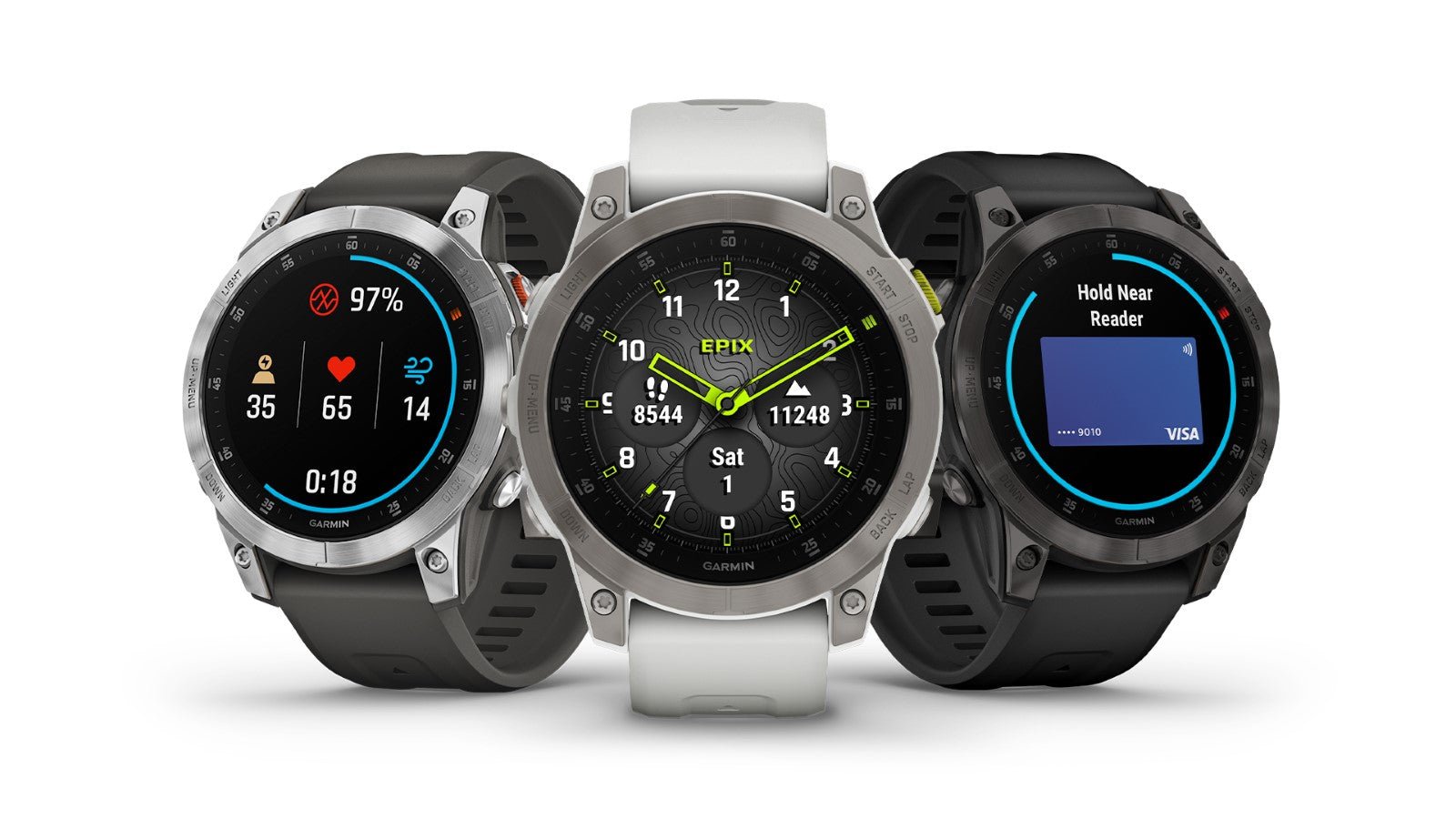 Sunday,Monday,Tuesday,Wednesday,Thursday,Friday,Saturday
January,February,March,April,May,June,July,August,September,October,November,December
Not enough items available. Only [max] left.
Add to Wishlist
Browse Wishlist
Remove Wishlist
WARNING: Max settings 200 code custom color. If you want more than, please contact support us, Kind Regards!
IMPORTANT: Click on the button 'Update on online store' to code active on live theme.
Update on online store
Updating style
Updated style
Demo Swath, Label settings Preview: