Garmin MARQ
Upptäck nya Garmin Marq Gen 2, en enastående premium toolwatch för dem som kräver det allra bästa. Garmin Marq Gen 2 representerar en perfekt kombination av högkvalitativa material, avancerad teknik och eleganta utföranden. Här är några av de mest imponerande egenskaperna hos Garmin Marq som gör den till en oumbärlig följeslagare för både äventyr och vardagsliv:
Klass 5-titan: Garmin Marq Gen 2 är tillverkad i lätt och slitstarkt klass 5-titan, vilket gör den både robust och bekväm att bära under alla förhållanden.

Välvd safirkristall och AMOLED-display: Garmin Marq är utrustad med en välvd safirkristall som skyddar den knivskarpa AMOLED-displayen och säkerställer optimal läsbarhet även under svåra ljusförhållanden.

Fem unika utföranden: Garmin Marq finns i fem distinkta utföranden som passar olika livsstilar och intressen: Adventurer för utomhusentusiaster, Athlete för idrottare, Aviator för flygentusiaster, Golfer för golfspelare och Captain för seglare och båtägare. Varje modell har specialfunktioner och designelement som passar perfekt för respektive aktivitet.
Utforska vårt sortiment av Garmin Marq och upptäck den premium toolwatch som bäst passar din livsstil och dina behov. Med Garmin Marq kommer du att uppleva en oslagbar kombination av kvalitet, prestanda och stil, oavsett vilken modell du väljer.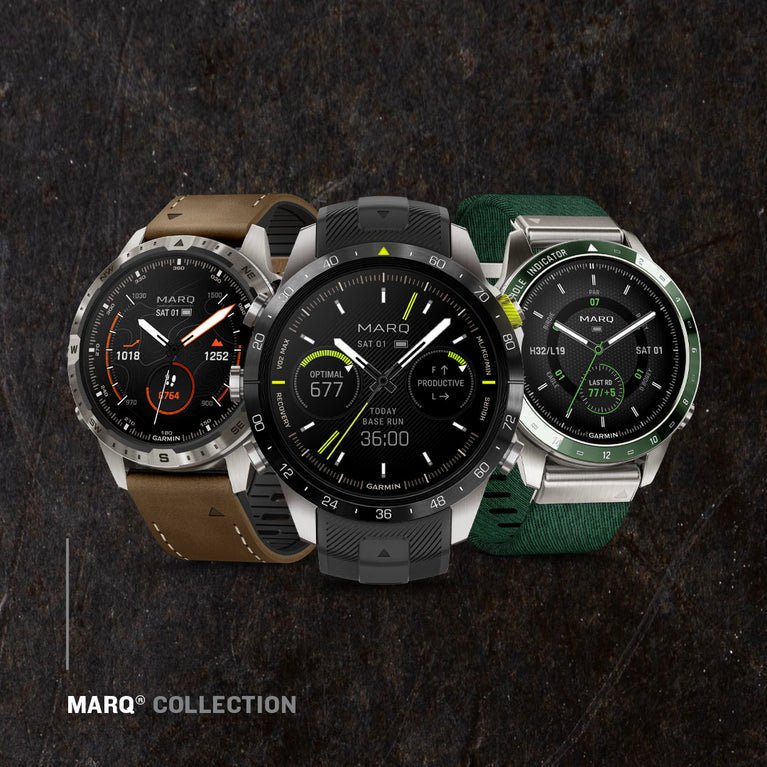 Sunday,Monday,Tuesday,Wednesday,Thursday,Friday,Saturday
January,February,March,April,May,June,July,August,September,October,November,December
Not enough items available. Only [max] left.
Add to Wishlist
Browse Wishlist
Remove Wishlist
WARNING: Max settings 200 code custom color. If you want more than, please contact support us, Kind Regards!
IMPORTANT: Click on the button 'Update on online store' to code active on live theme.
Update on online store
Updating style
Updated style
Demo Swath, Label settings Preview: