DS Podium
Certina DS Podium är en klockserie som skiljer sig från mängden genom att kombinera klassisk elegans med sportiga inslag. Dessa klockor passar utmärkt för dem som söker en mångsidig accessoar som kan användas i olika sammanhang och för olika aktiviteter. Häng med när vi utforskar DS Podium-seriens unika egenskaper och funktioner.
Certina DS Podium erbjuder en mängd olika modeller som kan tillgodose en rad olika smaker och krav. Vi kommer här att gå igenom några av de mest intressanta aspekterna av dessa klockor:
Estetisk mångsidighet – DS Podium-serien är känd för sin estetiska mångsidighet, med både klassiska och sportiga element som smidigt integreras i designen. Detta gör dem lämpliga för såväl formella tillställningar som mer avslappnade situationer.

Tidlösa materialval – Certina DS Podium-klockorna är tillverkade av högkvalitativa material som rostfritt stål och läder, vilket ger dem en tidlös och elegant känsla. Dessa materialval bidrar också till klockornas hållbarhet och långvariga skönhet.

Noggranna urverk – Certina DS Podium-serien drivs av precisionsteknik i form av Swiss Made automatiska eller kvartsurverk. Detta innebär att du kan lita på att din klocka alltid är exakt och pålitlig.

Funktionella detaljer – DS Podium-klockorna erbjuder en rad praktiska funktioner, såsom datumvisning, kronograf och tachymeter, som hjälper dig att hålla koll på tiden och mäta hastighet vid behov.

Bekvämlighet och användarvänlighet – Certina DS Podium-klockorna är designade med användarvänlighet och komfort i åtanke. De har enkel justering av armband och boettstorlek, samt tydliga och lättlästa visare och timmarkeringar.
Certina DS Podium-serien erbjuder en unik kombination av klassisk elegans och sportiga inslag som gör den till ett utmärkt val för den stilmedvetna klockbäraren som vill ha en mångsidig accessoar. Med sin blandning av tidlösa material, pålitliga urverk och funktionella detaljer är DS Podium-serien en klockkollektion som uppfyller alla dina behov. Upptäck Certina DS Podium och hitta den perfekta klockan som kompletterar din personliga stil och passar dina äventyr i livet.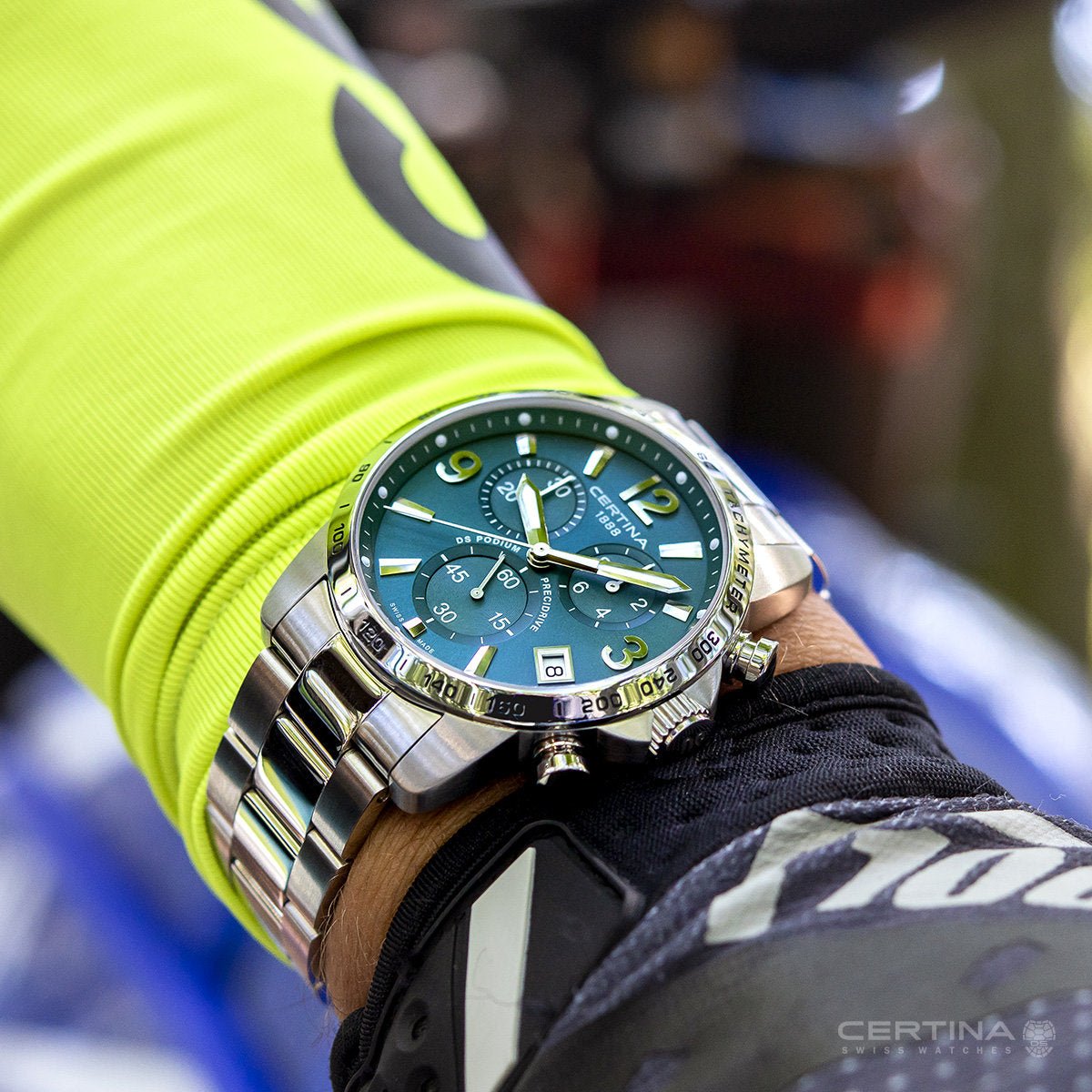 Sunday,Monday,Tuesday,Wednesday,Thursday,Friday,Saturday
January,February,March,April,May,June,July,August,September,October,November,December
Not enough items available. Only [max] left.
Add to Wishlist
Browse Wishlist
Remove Wishlist
WARNING: Max settings 200 code custom color. If you want more than, please contact support us, Kind Regards!
IMPORTANT: Click on the button 'Update on online store' to code active on live theme.
Update on online store
Updating style
Updated style
Demo Swath, Label settings Preview: